Get involved
There are countless ways to be a part of Queensland Mental Health Week (QMHW) and there's is no limit to the size or type of event you can hold. Simply, participate in a way that's meaningful to you or your community. If you want to host your own event, we've stepped it out below. And remember to make an effort to be inclusive of everyone.
Who should get involved?
Individuals & community groups
People power drives Queensland Mental Health Week
QMHW is a reminder that we all have mental health. When you look after your wellbeing, your family, friends and neighbours, your communities are uplifted too.
Get your local schools, councils, community groups, and sporting organisations involved in events and activities
Take time for your mental health by engaging in activities that boost your wellbeing
Consider how can you make communities and activities that you are involved in more welcoming, open or easier to access for those experiencing difficulty with their mental health and wellbeing
Spread the word about QMHW and share help-seeking resources amongst your communities!
Businesses
Great ways businesses can support Queensland Mental Health Week
Mentally healthy workplaces benefit all employees, their families, organisations and the broader community, while mental health stigma and discrimination pose significant barriers to participation in the workforce and many other areas of life.
Coordinate an event for your workplace or host a toolbox talk
Gather your colleagues and support one of the many public community-led events
Promote the week on your website and social channels using Queensland Mental Health Week resources
Share help-seeking resources with your employees
Nominate your organisation for the fantastic work they're doing for a Queensland Mental Health Week Achievement Award
Schools & universities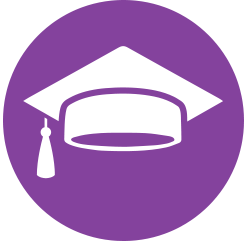 Learn lifelong life skills
Childhood and adolescence provide key opportunities to develop the foundations for good mental health and prevent mental health problems.
Approach the Principal or Student Wellbeing Officer at your school and ask about participating
Teachers can hold classroom activities. There are free resources being developed!
Show your support for an event being held in the community
Schools can submit for the QMHW Achievement Awards 'Schools' category
Universities can organise events for students or support those that are held by the student guild, clubs, or individuals
University staff can also coordinate light ups on campus to raise awareness