Events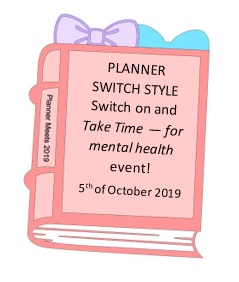 PLANNER SWITCH STYLE Switch (Ipswich)
Date & Time
Saturday, October 5 2019, 12:00 pm
Organiser
Planner Switch - Ipswich Planner Meets
If you love PLANNING, head out to Ipswich this October and join us for some fun ~ let's plan, craft, laugh, create and catch up in a PLANNER SWITCH STYLE Switch for Queensland Mental Health Week
Swag bags and a make-n-take are included with registration
Snacks and drinks included in the ticket price
This event will be capped at 8 people and tickets will be $10. This is to cover the purchase of food and drink supplies only and no profit is being made. Supplies for swag bags or make and takes are either donated or supplied by myself.
The make-n-take for this event will be Mood Tracker themed journal pages! All items will be supplied for this on the day.
What to bring on the day:
Your planning supplies, of course! 🙂
An area will be set up on the day with a Swap Exchange box for you to pop in some items and grab out any that take your fancy so if you like bring along some items (stickers / washi / stationery) that you no longer want to pop in the box.
Money for the charity raffle – All proceeds will be donated to Headspace Ipswich.
REFUNDS: If you purchase a ticket and find yourself unable to attend, you will be able to get a full refund as long as it is 7 days or more before the date of the event. Unfortunately I cannot offer refunds any later than this as I will have already organised and paid for catering. However if you are unable to attend it would be a lovely gesture to offer your place to another member if there was someone unable to go. 🙂
If you have any questions please pop over to the Planner Switch Facebook page.
Back to Events