Events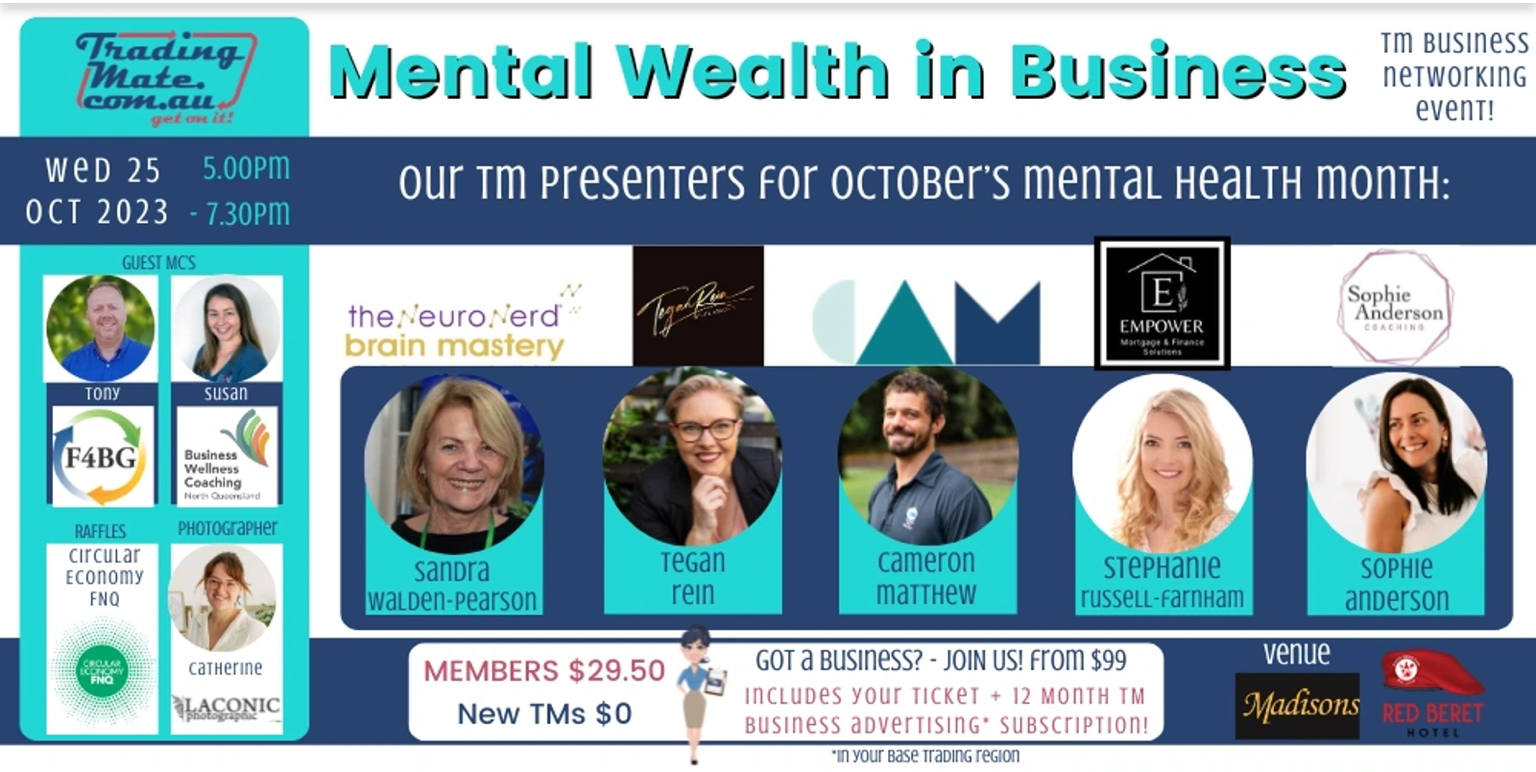 Mental Wealth in Business
Mental Wealth in Business
Date & Time
Wednesday, October 25 2023, 5:00 pm
Location
Madisons Function Rooms, Kamerunga Road, Redlynch QLD, Australia
Organiser
www.tradingmate.com.au
Mental Health = Business Wealth
We know it's tricky . . . and the last thing small business operators expect is an easy ride . . . but it actually can be!
It all depends on how you determine to play the mind games within.
This month we have a fantastic line-up of small business supporters who know the struggles and the way to shift gears to embrace our issues & triumph over challenges – actually making them work to our advantage!
Introducing:
Sandra from the neuro nerd ®
Tegan from Tegan Rein Coaching
Cameron from Choose Act Master (CAM) Performance Coaching
Stevie from Empower Mortgage & Finance
Sophie from Sophie Anderson Coaching
Enjoy a welcome drink on arrival and some light refreshments to fuel the positive energy – all included in your ticket price!
Thank you to our October event team:
Raffle recipient – Circular Economy FMQ
Venue Host – Madisons Function Rooms
Photographer – Catherine – Laconic Photographic
Guest MCs – Tony from Cairns Forum 4 Business Growth & Susan from Business Wellness Coaching


We look forward to seeing you all upstairs in the fabulously appointed Madisons Function rooms at the Red Beret Hotel, Redlynch on October 25 from 5pm!
Back to Events